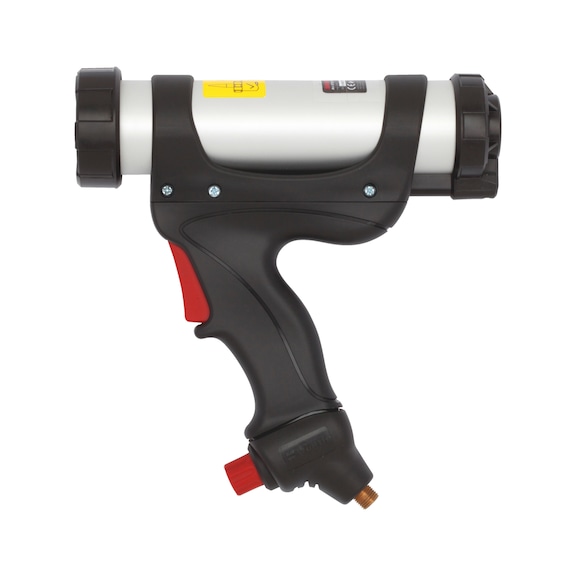 Juniorfix pneumatic application gun
Pneumatic application gun, Juniorfix
CARTGUN-PN-JUNIORFIX-310ML
MASTER
Prices for customers after login
Exclusively for trade customers
Register now and access more than 125,000 products
Call customer service: +976 76117940
Powerful and lightweight pneumatic application gun for applying products in cartridges. Ideally suited for adhesives and sealants with high and low viscosities.
Easy to work with
Lightweight, compact and ergonomic design
Rotary pressure controller on handle for slow and fast extrusion
Additional fine regulation of the flow speed via trigger.
Optimum movement
Damper on quick-trigger valve
Protection of e.g. air supply components and simple cleaning
Fully enclosed housing
Notice
The average consumption for pneumatic application guns is approx. 7.2 litres/minute.
Caution: The maximum working pressure for applying sealants is 6 bar.
The usage instructions are recommendations based on the tests we have conducted and based on our experience; carry out your own tests before each application. Due to the large number of applications and storage and processing conditions, we do not assume any liability for a specific application result. Insofar as our free customer service provides technical information or acts as an advisory service, no responsibility is assumed by this service except where the advice or information given falls within the scope of our specified, contractually agreed service or the advisor was acting deliberately. We guarantee consistent quality of our products. We reserve the right to make technical changes and further develop products.
Certificates/ Documents

| | |
| --- | --- |
| Suitable for | 310 ml cartridge |
| Flow capacity | 7.2 l/min |
| Length | 238 mm |
| Connection thread | 1/4 inch |
| Weight of machine | 0.47 kg |
| Max. operating pressure | 10 bar |
Select RAL-colour code
!! NOTE: On-screen visualisation of the colour differs from real colour shade!!
Art.-no.

Plus disposal costs -,-- per selected packing unit
Cust. Mat. No.
Certificates/ Documents